Featured Chef Announced!
Wine Rival announces Fabio Viviani as the featured chef!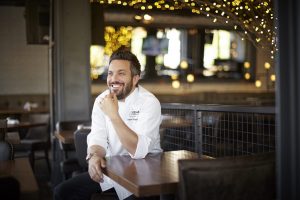 Top Chef's most famous alumni is bringing his culinary talents to Wine Rival 2021! Featuring fan favorites from Siena Tavern and Bar Siena along with custom dishes, the food alone will be worth the $50! Even better, he's going to be there, so bring your cookbooks and iPhones to grab yourself a pic and an autograph! Amazing! Thank you, Fabio!
Chef. Culinary Personality. Restaurateur. Cookbook Author. Best known for participation in Bravo's Top Chef Seasons 5 + 8. Earned Top Chef "Fan Favorite" title. Recurring guest on National television shows + headliner at global food events. A spokesman for international brands Bialetti Cookware and Lavazza Coffee. Started a YouTube Cooking Series called "Fabio's Kitchen." Author of four cookbooks: Café Firenze Cookbook, New York Times Best-Seller Fabio's Italian Kitchen, Fabio's American Home Kitchen, and most recently Fabio's 30-Minute Italian.